Translation of your diploma from English into Polish
One of the services often provided by English-Polish sworn (certified) translators is the translation of school certificates, university diplomas and other documents proving educ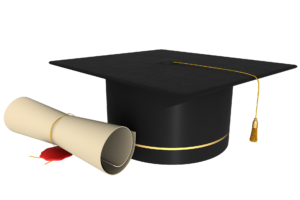 ation and professional qualifications. Clients often look to have the above documents translated when they are interested in enrolling in programmes at Polish universities. In order to undertake the studies, they must submit documentation that confirms the completion of a specific stage of education abroad. Along with the diploma, a university application often needs to be accompanied by a transcript containing the list of courses a student completed at the previous stage of their education. This document also has to be translated into Polish. The need to obtain the translation of a diploma or school certificate may also arise in connection with recruitment for a job in Poland. In this case, your prospective employer might want you to prove that your education and qualifications meet the requirements a given position entails. Read on to learn more about diploma translation from English into Polish!
Who is a sworn translator in Poland?
In Poland, there is a special profession of "tłumacz przysięgły" (a sworn translator or certified translator, depending on the equivalent you prefer), whose role is to provide official, certified translations of documents that are to be submitted to courts, authorities, universities and other institutions. A sworn translator in Poland is entitled to certify that his or her translation conforms to the content of the original source document. The certification is effected by placing a seal on the paper version of the translation or, alternatively, by applying a qualified electronic signature to an electronic document (in the latter case, it is necessary to verify whether the institution to which the translation will be submitted accepts certified translations in electronic form).
Translation of a diploma from English into Polish – linguistic aspects
Translating a diploma or a transcript into Polish is not as easy as it may seem. The reason is the diversity of documents issued by different educational institutions, variations in subject names, assessment or credit systems peculiar to specific jurisdictions or schools, etc. This makes it necessary for the translator to take an active attitude and search for the most appropriate equivalents in Polish. The above is extremely important, bearing in mind that a wrongly translated course subject name may cause problems; for instance, the new university might not recognise a course taken in the past and request the student participate in the same course again.
There is a specific rule related to the translation of diplomas expressed in § 46(2) of the Sworn Translator Professional Code. According to it, "a professional title, academic degree or academic title shall be quoted in the source language; it may be supplemented in the translator's note with an explanation as prescribed by an authorised institution". The above is based on the rules developed by international institutions. For example, while preparing a certified translation, a sworn translator is not allowed to translate "Bachelor of Arts" as "licencjat" or "Master of Arts" as "magister". Admittedly, the Sworn Translator Professional Code permits the description of a degree in brackets, but only using the wording approved by an authorised institution (which is rarely available). A certain solution to this tricky point (used by some translators in a situation where the client needs their professional title or academic degree to be translated) is to provide the equivalent outside the wording of the certified translation, in a comment placed under the certification formula. In doing so it is, however, necessary to exercise special care.
Translation of the diploma into Polish – assistance of a professional translator
For the reasons mentioned above, if you need to have a university diploma (transcript) translated into Polish, it is worth using the services of translators who specialise in such content and are versed in academic terminology. In most cases, a certified translation (performed by a sworn translator) will be required. This kind of translation is a guarantee of a true, accurate and unbiased reflection of the content of an English diploma or certificate in Polish. Sworn translators take responsibility for their translations and are subject to professional liability. The translations they provide are traceable since they are recorded at individual item numbers in the register called "Repertorium".
Translation of your diploma into Polish at EngLaw
At EngLaw, we offer professional certified translation services, including the translation of diplomas, certificates, transcripts and any other academic documents. We translate from English into Polish and from Polish into English. Our translations are performed by a qualified sworn translator entered into the Register of Sworn Translators kept by the Minister of Justice, a holder of degrees in Law and English as well as the TOLES Advanced certificate. Before being delivered to the client, translations are thoroughly proofread several times so as to ensure the highest subject-matter accuracy and linguistic quality. Our offer includes both ordinary and certified translations. EngLaw services can be ordered from anywhere in the world. To receive a free quote, it is just enough to submit scans or good photographs of the documents to be translated by email (click the Contact button below). Translations are delivered to the Client in electronic form (scanned or in a file with an electronic signature), sent by post or courier or made available for personal collection in Chorzów, Poland (the Upper Silesia region: 10 km from Katowice, 80 km from Cracow).
Feel free to use our professional certified and ordinary translation services.
Sworn translator of the English language: remote and online services offered around the world
Sworn translator of the English language: Chorzow, Katowice and the Upper-Silesian Region
Get a free quote