Why do you need a Polish sworn translator?
Who is a sworn translator? If you want to do business in Poland, study at a Polish university or handle some private affairs before Polish authorities, you might be requested to provide certain official documents for the purposes of the proceedings or recruitment. In most situations, the English originals won't be accepted unless accompanied by their translations into Polish. Translations submitted to authorities and public institutions in Poland need to be certified, which ensures that they match the content of the source documents. There is a special profession, the so-called sworn translator ("tłumacz przysięgły", also translated as "certified translator"), legally authorised to provide certified translations. These are sometimes called "sworn" translations. A sworn (certified) translator is a regulated profession, and to be able to practise it, one needs to pass an official state examination and then be entered into the register of sworn translators kept by the Minister of Justice. Only then will they be issued a stamp that they can affix on translated documents to make them valid. 
Polish sworn traslator or sworn interpreter?
Sworn translators are also sworn interpreters. This is to say that there is no separate certified interpreter profession, and all translators who have been entered into the register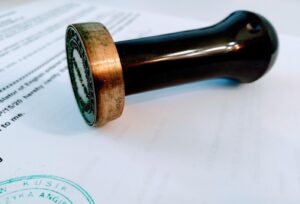 of sworn translators are also entitled to provide interpretation services in a variety of official situations. You might need to be assisted by a Polish sworn translator/ interpreter when you are a party to some legal proceedings and have to give a statement, e.g. while being interrogated at the police station or in court. A Polish sworn translator/ interpreter can also help you when you buy or sell a property in Poland and have to appear at a notarial office to execute a notarial deed (sale of real estate in Poland is recorded in the form of a notarial deed that covers the contract between the parties).
Anything like notarised translation?
It is important to remember that no other kind of translator in Poland can offer officially recognised certified translations. There is nothing like notarised translation under Polish law. In the field of translation, a sworn translator acts in a way similar to a notary and is independently empowered to certify translated documents. A sworn translator keeps a register called "repertory", in which they record all translations they have performed. More details regarding sworn translators can be found in the Act on the Profession of Sworn Translator, which is a piece of Polish legislation that establishes the profession and regulates the rules of professional practice. Quite importantly, the above Act imposes on sworn translators certain obligations that are of crucial importance from the client's perspective. These include the duty of exercising special care in performing a sworn translator's tasks, the duty of impartiality and the duty of compliance with the rules arising from the provisions of law. What is more, a sworn translator has a statutory confidentiality obligation with regard to the facts and circumstances the translator has become aware of in connection with translation. They are also obliged to improve their professional qualifications.
What documents can a Polish sworn (certified) translator translate?
There are some other questions that might come to mind. Is a sworn translator able to translate all kinds of documents in any field? And do they produce only certified ("sworn") translations or other, ordinary translations too? The answer to the first question is that sworn translators are legally authorised to provide official translations of any kind of documents. The licence they receive from the government does not specify or limit the fields or types of content they are entitled to translate or interpret. However, sworn translators have their own specialisations, and it is good to have that in mind while looking to hire a sworn translator: first of all, in order to find a good fit for very specialised documents, and secondly, to understand why a translator may say "no", refusing to translate something that is not in line with their knowledge and experience (as a matter of fact, it is ethical of a translator not to translate a document they do not feel comfortable with). Regarding the second of the questions posed above, sworn translators can and usually do provide ordinary translations as well. Given their high qualifications and the difficult path they have trodden to obtain the professional licence, they are translation experts whose services might prove very useful also for purposes other than official proceedings.
Need a professional sworn (certified) Polish-English and English-Polish translator?
If you need a sworn (certified) translator for your business, financial or legal purposes, feel welcome to use our services. At EngLaw, we are focused on providing high-quality translation services to individuals and companies located anywhere in the world. We can offer both certified and ordinary translation services. We know what we are experts on! This is why we accept a translation request only if we have made sure we are able to handle the assignment to exacting standards. The fields of our expertise include administrative, legal, financial and business content. Moreover, we are ready to translate most of the official documents that you might need to file with Polish authorities, courts and government agencies. Besides certified ("sworn") translations, we are happy to perform ordinary translation services too, including the translation of websites, in-company documents, business correspondence, academic papers in selected fields and many more!
Feel free to use our professional certified and ordinary translation services.
Sworn translator of the English language: remote and online services offered around the world
Sworn translator of the English language: Gliwice, Ruda Śląska, Mikołów, Zabrze, Katowice and the Upper-Silesian Region
Get a free quote