INTERPRETATION / TRANSLATION AT A NOTARY'S OFFICE – SWORN TRANSLATOR
Whether you are coming to Poland to do some business or for entirely private purposes, you might think about buying a property here. This could be your new office, holiday home or a plot to build a factory or warehouse on. In each of these cases, you'll have to visit a notarial office. A notary in Poland is a slightly different profession from its common-law counterpart, and it is treated here as a full-fledged, separate legal occupation, which also enjoys more extensive powers. These include drafting notarial deeds to record a variety of transactions. A notarial deed is a special form of recording legal transactions, and it is mandatory for some of them, including conveyance of real estate. If the form of a notarial deed is not observed, the sale of a property would be invalid by operation of law. The notary's duty is to ensure that all parties to a given transaction have understood what the subject matter of the transaction is, or basically what document they are just going to sign in the notary's presence. Therefore, if one of the parties does not speak Polish, the transaction must be assisted by a sworn (certified) translator, who will appear at the notary's office to provide interpretation / translation of the conversations between the parties and the notary, as well as the content of the notarial deed itself.
TRANSLATION OF A NOTARIAL DEED – LEGAL ASPECTS
Pursuant to Art. 2(3) of the Law on Notaries Act, "Notarial activities are performed in the Polish language. At a party's request, a notary may additionally perform the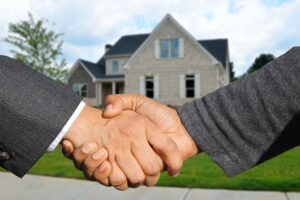 activity in a foreign language using his knowledge of the foreign language proved in the manner provided for sworn translators or with the assistance of a sworn translator". The only situation where the notary might decide not to use a sworn translator's service is when the notary has himself/herself obtained a sworn translator's qualifications. This is, however, an extremely rare case. In reality, you, as the client, have to take care of ordering the services of a sworn translator / interpreter. A notary is not an authority upon whose request a sworn translator is legally obliged to appear at the office (as opposed to a court, the police, etc.). That is why it is worth making an appointment with the sworn (certified) translator / interpreter well in advance. This may help you avoid some trouble, especially in the case of rare languages, where it is not easy to find a replacement translator at short notice.
WHO CAN USE A SWORN TRANSLATOR / INTERPRETER OF ENGLISH?
Are the services of a sworn translator of English intended for nationals of English-speaking countries only?
Not at all. If you are not a native speaker of English, but you have a sufficient command of this language, you can use the assistance of a sworn (certified) Polish-English translator. This solution is often beneficial when it is difficult to find an available translator of another foreign language. One more argument for using an English interpreter might also be the price: translations from languages other than English or German are usually much more expensive.
TRANSLATION / INTERPRETATION AT A NOTARIAL OFFICE – A SWORN TRANSLATOR'S ROLE AND WORKING CONDITIONS
WHO IS A SWORN TRANSLATOR?
First of all, it should be noted that a sworn translator (sometimes also called a "certified translator" or "a sworn / certified interpreter") is a distinct regulated profession, governed by the Act on the Profession of a Sworn Translator. It is not easy to become a sworn / certified translator in Poland and to do so, a candidate must learn a lot about the legal language, the legal systems, and the rules of certified translation. These skills and knowledge are essential for the candidate to be able to pass the official state examination.
SWORN INTERPRETER'S INTEGRITY
A sworn translator / interpreter is not a representative of any of the parties to a transaction, and he or she is obliged to adhere to professional integrity standards, maintain the confidentiality of any information they have learned and be objective. None of the parties to a transaction, including the one that asked for the interpreter's services, may influence the content of the translation.
SCHEDULING AN APPOINTMENT
When you are planning an appointment at a notarial office, it is also important that you ensure enough time to comfortably carry out the transaction. Making of a notarial deed with the aid of a sworn translator takes much longer, and you should allow for that in your schedule. Situations where the interpreter is rushed or asked to omit some passages from the deed should be avoided. An act in the law or, in other words, a legal transaction, is definitely a serious thing, and it is crucial to avoid any issues that could later be invoked by any person to invalidate it or claim that they were acting under the influence of an error. Thus, it is imperative that the foreigner has a thorough understanding of the transaction they are taking part in.
INTERPRETATION AT A NOTARY'S OFFICE – FORMALITIES
The notarial deed contains the sworn translator's name and surname, and he or she also signs the deed on the last page and initials all other pages. By signing the notarial deed, the parties confirm that they have understood its wording. This also applies to any foreigners who used the interpreter's service. When it comes to some technicalities, the sworn translator / interpreter should sit close to the foreigner to be interpreted, which will help him or her hear the foreign party's words better. Nowadays, the coronavirus pandemic and the related social distancing requirements impose certain limitations in this respect, which makes the interpreter's working conditions more difficult. So don't be surprised if the interpreter asks you to repeat your words at times.
Interpretation at a notarial office largely consists of the so-called sight translation / interpretation. It is not the only kind of interpretation done, though. Dialogues between the notary and the parties must also be interpreted on an ongoing basis. The sworn translator often has to explain some aspects more precisely, ask the foreigner about the exact spelling of their name or address, etc. It may also happen that some misunderstandings or controversies arise between the parties just at the last stage of the transaction… The decision to sign the deed is actually made by the parties at the very end, after it has been read to them, so they may refuse to sign it or ask for changes at any time. If this happens to be the case, the sworn translator's role and great professional skills might be even more important.
WRITTEN TRANSLATION OF A NOTARIAL DEED INTO ENGLISH
The interpretation service at a notary's office does not automatically include a written translation of the deed. If you want to obtain it, you should place a separate translation order with the sworn translator. More information on the written translation of notarial deeds can be found here.
TRANSLATION / INTERPRETATION AT A NOTARY'S OFFICE – ENGLAW CAN HELP YOU!
At EngLaw (https://englaw.pl/en/home/), we offer professional translation and interpretation services performed by a sworn (certified) translator entered into the register kept by the Ministry of Justice. We assist the full range of notarial activities, including the sale of real estate, granting of a power of attorney, activities in the field of company law, making of wills, other transactions related to succession law, etc. Translation / interpretation at a notary's office is performed by a sworn translator (interpreter) with a legal and linguistic background, holding a TOLES Advanced legal language certificate. We also offer written translation of any documents you might need before your appointment with a notary, as well as a subsequent written translation of the notarial deed. Our written translation services are available countrywide and internationally. We basically provide interpretation services in the Silesian province, but we could possibly arrange them in some more distant locations too – please ask us for details. We continue to provide our services during the coronavirus pandemic.
Feel free to use our professional sworn (certified) and ordinary translation services.
Sworn translator of the English language: Chorzów
Sworn translator of the English language: Katowice and Silesian province
Remote and online services